Naturally Glowing Skin: It's one of those phrases that gets thrown around so much in the beauty industry but do you know that the easiest way to get the most natural looking glow is to take care of your skin? As easy as that sounds, taking proper care of your skin requires a little bit of effort on your part. Yesterday, I was talking to my boyfriend about his lack of using lotion. It baffles me that he can moisturize his hands and feet but neglects the middle part of his torso. His response to me: "when shorts season comes around, I'll make sure to lotion my legs". After preaching about the need for daily moisture, my face went to 
 and I left it alone. He would learn one day.
Later that night, we were at a Game of Thrones premiere party and [SPOILER ALERT] the final scene with Melisandre aging with her skin sagging really threw him for a loop. "That can't be her, she looks like she belongs with Smeagol."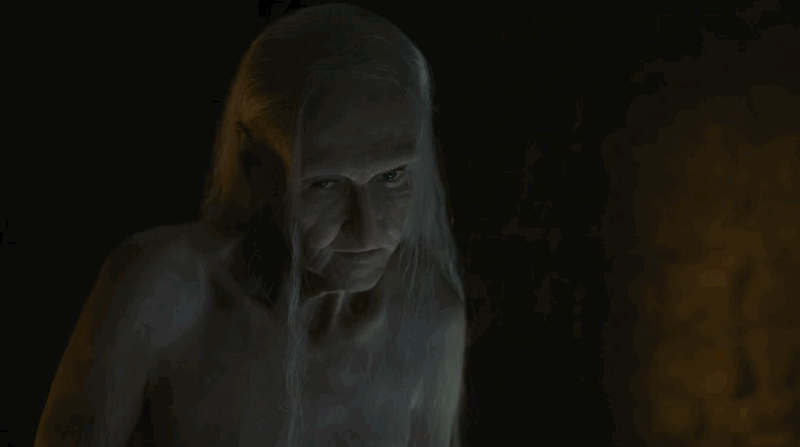 Clip of Game of Thrones scene
I laughed and immediately looked over to him and said, "well take that as your warning because that is what happens when you don't moisturize." The look on his face was priceless but I wasn't the only one who took note of that hidden message from GoT. A few hours  later, Clarins' Instagram page won the internet and posted this meme.
I almost fell to the floor when I saw it pop up in my timeline but you know what, they're right. I spend at least 15 minutes every morning and night on my skincare routine. If I'm in the mood for a full spa treatment, it can take at least an hour. It sounds like a lot of work but by maintaining a proper skincare routine, you won't have to rely on using foundations and concealers everyday. Another bonus is that by taking preventative measures early on and establishing a healthy skincare routine, it will help to ward off wrinkles, fine lines, dark spots, and sagging.  Sounds worth it right? Here's what you want to do.
Start off by finding a skincare line that interests you. If you can, try heading into the department store or your local Sephora or Ulta for a quick consultation. Their skin care specialists can give you the background behind what's new and can advise you on the best products for your particular skin care concerns.
I start with the One-Step Gentle Exfoliating Facial Cleanser because it washes away all of the dirt and dead skin without irritating my skin. The orange extract will soften your skin while the gentle silica microbeads will help to clear your pores, and the moringa seed extract purifies and refines your skin leaving it feeling refreshed. I absolutely recommend this is you have acne prone skin. 
Next, I use the Gentle Exfoliator Brightening Toner. You can use any toner that fits into your routine to even out your skin tone, however, I would stay away from alcohol-based toners or toners that have heavy fragrant extracts which can irritate the skin. You should try to find a toner that is full of antioxidants, skin-repairing substances and cell awakening ingredients such as niacinamide.
I prefer to use the Gentle Exfoliator Brightening Toner because it brightens, smoothes, and balances my skin while helping to prevent the build-up of pore-clogging debris which can lead to acne. Also, I use this as an added step in caring for my hyperpigmentation. The Tamarind extract rids the skin of dry, flaky surface cells, while the White Nettle extract refines enlarged pores.
When applying your toner, remember that you want to dab or press the toner into your skin with a soft cotton ball or face pad. Do not make the mistake of swiping and dragging it across your face. 
After letting the toner dry down for about a minute, I apply the Double Serum Complete Age Control Concentrate. I love using this as it has a high antioxidant-rich formula and contains a much higher concentration of active ingredients which helps to heal and smooth my skin. With this product, a little bit goes a long way so try using two pumps of it to start. Remember to apply this before your sunscreen and before your daytime or nighttime moisturizer.
For my day moisturizer, I use the Multi-Active Day Cream. Even though I'm not 30...yet...I like to be pro-active about my skin care so any steps that I can take to ward off wrinkles is good for me! The multi-active day cream contains active plant ingredients that are combined to restore elasticity to the skin .
And lastly, for my night moisturizer I use the Multi-Active Night Cream. Paired with my daytime moisturizer, this encourages skin renewal with the kiwi extract and helps to reduce the signs of wrinkles with the natural carb extract. 
Don't forget about your lips - yes they need moisture too! I literally swear by the Moisture Replenishing Lip Balm. It took me forever to find a lip moisturizer that I could put on a night, sleep for 8 hours, and wake up with my lips still feeling soft and not chapped. This one contains essential rose wax to calm and protect your lips while Ceramide 3 hydrates and replenishes them. 
I know this may seem like a lot to do but remember that the better condition that your skin is in, the better your makeup will apply and look throughout the day.
-Affiliate Links-